Occasionally we get emails, comments, or phone calls from people who have found wildlife on the trails. You may yourself have seen any of the wildlife on our list of animals that you may see in the park from time to time.
However, aside from the sightings, there are times when you feel you may have found an animal in distress. Occasionally, animals are accidentally abandoned on the trails. However, more often than not, there are times when people find animals that do not actually require human intervention. One example of this is with juvenile birds. Time and time again, people find young birds hopping around on the ground and falsely assume that they are abandoned. In reality, they spend a week or two on the ground before they are able to fly, while their parents continue to bring them food on a regular basis.
Here is a list of animals you will find in our parks and trails, and what you should do should you find one.
NOTE: IF YOU FIND AND COLLECT ANY WILDLIFE, DO NOT FEED THEM ANYTHING UNTIL YOU GET IN TOUCH WITH SOMEONE EXPERIENCED WITH THAT ANIMAL.  FEEDING THEM THE WRONG FOODS, OR EVEN FEEDING THEM THE RIGHT FOODS THE WRONG WAY CAN INJURE OR KILL THE ANIMAL YOU ARE ATTEMPTING TO FEED.
BIRDS
If you see a grounded bird, then there are two things to consider. Is the bird clearly injured? If so, it is acceptable to assist the bird. If not, you need to consider the age of the bird. Here are some pictures of birds that are young, but just old enough to be out of the nest.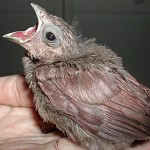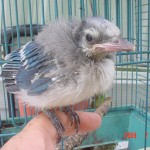 You do NOT need to immediately pick these birds up.  They are at an age where they are just able to leave the nest.  Instead of scooping the bird up and taking it home, you can safely leave the bird where it is.  The parents are likely feeding the bird actively.
If you want to be sure, keep your distance, and if you have the time for it, keep an eye on the young bird.  If the parents do not return to feed it within 60-90 minutes, the bird can then be considered abandoned, and you can safely collect it.
From there, you can call one of the contact lines listed at the bottom of the page, for further instructions.
Opossums
Also known around here as just "possums," you're more likely to find these guys roaming around at night.  If you've seen one, you'll definitely know what an adult opossum looks like.  However, few have actually seen a baby.  The reason for this is that the mother actually carries her young in a pouch, very similar to the Kangaroo (they are actually both marsupials!).  Occasionally, the mother will stop, and her young will crawl around as she takes a break.  Unfortunately, some don't make it back into the pouch.
If you see a baby opossum alone on the ground, it is considered abandoned.
The mother will not return.  Mother opossums do not have the capacity to keep a count of their young, and will occasionally leave one behind.  When this happens, they do not even consider the possibility that they are missing one of their young.
You may, if you wish, collect the opossum to put him somewhere warm, then contact one of the numbers below.  If you are unable or unwilling to collect it (at a certain age, they have SHARP teeth!), simply call one of the numbers for further instruction.
Raccoons
Baby raccoons, much like baby birds, do not need to be considered abandoned as soon as you find one.  If you're lucky enough to spot a baby raccoon, don't be surprised if the mother is sleeping in a tree nearby.  Sometimes the mother needs a break, and will let the babies use up their energy while she takes a much needed nap.
If you come across a baby raccoon, consider leaving it where you've found it for at least six hours before attempting to collect it.  If the baby is still there after 24 hours, you can consider it abandoned.
Warning: 70-90% of Raccoons are known to carry baylisascariasis, a parasite that is transferred through their feces. This parasite is extremely resilient. The parasite eggs can survive up to 5 years, and can only be destroyed by flame or boiling water. If you handle a raccoon without proper protection and you come in contact with raccoon feces, you risk exposing yourself to the disease. Do not touch your mouth or face, and ensure that you clean yourself, your clothes, and anything you have touched, thoroughly before eating. Wear gloves, and throw them away. This parasite, if ingested, can cause severe permanent neurological disorder – or death.
From there, you can call one of the contact lines listed at the bottom of the page for further instructions.
Skunks
It is unusual for a baby skunk to be out on its own.  If you see one, it suggests the possibility of the mother having been relocated by someone considering them a pest, or the mother possibly being struck while crossing a road.
If the skunk looks active and alert, it is likely that the skunk is actually foraging for itself.  However, if the skunk looks aimless, confused, it may be a young skunk that is searching for its mother.  In a scenario like this, you have two options.
You may, at your will, attempt to approach the baby skunk.  If you are not almost immediately run off by the mother, it is likely that the skunk is abandoned.  If you have the time for it, try to at this point keep your distance.  If you do not see a mother return within an hour or two at most, you can absolutely consider the baby skunk abandoned.
You are free (at your own will) to attempt to pick up the skunk on your own.  Be aware that baby skunks can spray if they are scared or alarmed.  Also, keep in mind, if it takes two hands to pick up the skunk, it is certainly large enough to be on its own.
From there, you can call one of the contact lines listed at the bottom of the page, for further instructions.
Rabbits
Baby rabbits are likely the easiest to determine whether they are abandoned or not.  If you come across a den, then you must leave the babies where they are.  Some mother rabbits do not pick the smartest places to house their babies.  Do not, even in the presence of the mother rabbit, attempt to move them to a safer location.  Mother rabbits have been known to lose their babies even when moved within a foot of where you found them.
If you find a random individual baby rabbit out in the open, you can safely assume it is abandoned if you do not see any adult rabbits anywhere nearby.  To be sure you haven't stumbled across a single baby rabbit den, there is another test you can perform.  If you can find a piece of string, or even some appropriately sized sticks, create an X over the spot where you've found the baby.  Return to the X the following morning or the following evening.  If the X is disturbed, it means the mother has returned to the den.
Otherwise, you can collect the individual baby rabbit (or rabbits, if you're sure they're abandoned), and call one of the contact numbers below.
Turtles
If you find a baby turtle, first identify what kind of turtle it is.  Try performing a google image search of "aquatic turtle" or "land turtle" to correctly identify.  If it is an aquatic turtle, you can safely place it in any pond nearby.  If it is a land turtle, it is extremely likely that it is actually someone's pet.
Be warned.  If it is a snapping turtle, you risk significant injury if you do not have experience with picking up turtles.  Snapping turtles are capable of biting off a finger if you make the mistake of giving them the chance.  They are also (in some cases) capable of reaching their head all the way around to the side of their body if you attempt to grab it.  If you are unsure of the species of turtle, do NOT handle it.  Instead, place a bucket over it if you can, and call one of the numbers at the bottom of the page.
Snakes
Baby snakes are like adult snakes.  You should just leave them alone.  If they are clearly injured, you may call us for assistance in dealing with the situation.  More often than not, without expensive, long-term medical treatment, the snake will suffer a drawn out painful death if injured.
If it is an uninjured snake, baby or adult, you can call the Copperfield hotline number at the bottom of the page.  We will remove the snake from your property and re-home it if possible.
Be advised that there are venomous snakes in the area, so handling the situation yourself is not advised unless you have experience in these situations.
Armadillos
If you come across a baby armadillo, you'll need to leave it alone.  In many cases the mother is nearby.  If you've found the baby armadillo near a road, it is possible the mother has been killed recently.  In any case, keep your distance and try to keep an eye on the baby, if possible.  If you do not see the mother return within a few hours, it is safe to assume the armadillo is abandoned.
During extremely hot weather, you should assume the armadillo is abandoned if you do not see the mother return within 30 minutes to an hour.
Coyotes or Bobcats
Bobcats and coyotes have been sighted in Copperfield.  If you find a coyote or bobcat, whether injured or healthy:
DO NOT APPROACH.
BACK AWAY.
IF THE SITUATION SEEMS UNSAFE, CALL 311 IMMEDIATELY and ask for ANIMAL CONTROL.
IF YOU ARE APPROACHED BY A THREATENING COYOTE OR BOBCAT, MAKE YOURSELF LOOK BIG, MAKE LOTS OF NOISE, AND BACK AWAY SLOWLY.
DO NOT RUN.  DO NOT ATTEMPT TO HIDE.  MAKE EYE CONTACT.
You need to show the animal that you are NOT prey.  If you run away or look afraid, they may attack.
Do not contact the Austin Wildlife Center or Copperfield hotline.  Neither of us have the resources to deal with a coyote or a bobcat.  Austin Animal Control does have the resources, and typically put priority on these animals if they are considered to be a threat.
If you attempt to intervene on your own, you put yourself at serious risk of being attacked by an adult coyote or bobcat.
Any Injured Animal
If an animal is injured, but is not a baby, you'll need to assess the situation.  If you feel you can safely recover the animal, feel free to do so.  You can then either call one of the contact numbers below, or you can take the injured animal directly to Austin Wildlife Rescue.
This does NOT apply to coyotes or bobcats.  As before, call 311 if you encounter a coyote or bobcat.
Contact Information
Copperfield Hotline – (512) 660-0681 (Call any time) Or Use The Contact Page
Austin Wildlife Center – (512) 472-9453
Austin Animal Control – 311